Buenos Aires and Iguassu Falls adventure of a lifetime!
March 10th- March 20th
I have read somewhere that Buenos Aires is considered the Paris of South America. It sure has a Parisian touch in form of beautifully exquisite looking art nouveau buildings and the elusive intrigue of immaculately dressed Portenos in Palermo Hollywood. But the city has its own convictive charm that stands out from rest of the world's famous cities. The remnants of the old worldly European colonialism synchronise harmoniously with Latin American essence and this is evident as you travel from one district to another. At the Plaza Mayo, you can be forgiven to imagine you are in Western Europe and at the Caminito; the sudden outburst of vibrant colours welcomes you to a carnival-esque world.
Folks of Buenos Aires
Portenos can come across as standoffish to outsiders and men don't stare and tease. The women may stare and if they do, it may look like they are giving you death stares when in fact they are merely curious. You will find tall, lithe looking, long haired brooding Penelope Cruz lookalikes in every corners of Buenos Aires. I heard Argentine men are considered some of the best looking in the world and I have to admit it is true. Portenos are helpful people and always curious to know where you are from. If I had a peso for every 'de donde eres?' I heard out there, I'd be rich….enough to buy a meal that is.
I used this holiday as an opportunity to practise my Spanish and put it to work. Though I have unintentionally butchered the beautiful language many times over, I was proud of myself for having the confidence to approach strangers and ask for directions in Spanish. It made me all the more determined to continue with my Spanish class when I got back home. I kept a daily journal which documented my adventures in Spanish and in English. I managed to get a kind hotel receptionist to take a look at my journal and correct my mistakes. There were a lot of mistakes, which he highlighted with a red pen. Actually I gave him a red pen to give him a sense of authority.
I found early March was the best time to visit the city as the summer was coming to an end. The temperature remained in the late twenties, touching thirty occasionally. The evenings were a delight. It was nice to retire to the balcony of the hotel room and enjoy the balmy sunset with a cup of tea.
During the 10 days here, I did the following.
The Tango Show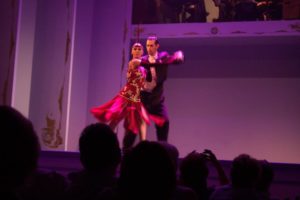 On the night of my birthday, I went to watch the Tango show at Los Angelitos. I mean you can't come to Buenos Aires and not watch the Tango right? It was spectacular and a fun show. I made friends with this lovely American couple Paige and David who were seated next to me and they surprised me with a birthday cake at the end of the show. I was so touched by this memorable gesture.
Friends asked me if I did some Tango myself. As brave as I can be when I do solo travelling, this was something I shied away from. I wanted to, considering it is one of my favourite dances. Maybe I will partake next time.
City Tour
I feel this is the best possible way to see the highlights of the city without missing out on anything. For me, a visit to La Boca (football fans will know about this place) and Caminito was the best highlight. It is terribly touristy with tango dancers in the streets offering tourists to pose with them in front of the camera for competitive price rates. The colourful metal houses provided an insight to a different face of Buenos Aires.
Recoleta Cemetery: Eva Peron
Recoleta cemetery is worth a visit especially if you want to know how the very rich and famous get buried. In fact my hotel is situated behind the cemetery and no, I wasn't spooked at all. Recoleta cemetery should be a district of its own, because it is vast, spacious and nothing like a graveyard. Instead of tombstones on the ground, you will find mausoleums of all shapes, sizes and designs housing entire familial clan. Most of them are dilapidated and in dire need of restoration. The money earned from selling map guide helps towards restoration project. Eva Peron's mausoleum is a popular site. I liked her mausoleum; so dark, so gothic looking and kind of befitting for the faux blond icon, the alluring Evita.
Gaucho lifestyle
Not one to miss out, Gaucho (an equivalent to cowboy in English) is a nationalistic symbol for Argentina and plays an important role in the country. I visited the ranch outside of Buenos Aires with a small tour group. There were only five of us – which was a nice number. I did horse riding but my horse was very hungry and kept stopping to eat grass. Every now and then a gaucho would gallop my way and help me get the horse moving.
I loved my horse; he was tall with jet black skin. I kept saying 'Bueno' whenever he looked up from eating and prayed consistently that he wouldn't kick me to the ground and land me right on top of the flea infested horse dung. As this was my first time horse riding without any help,  I enjoyed this experience so much. However I didn't relish the experience of getting off my horse. I had to gracefully glide (more like jump) into the waiting arms of a gaucho. He laughed, I went red.
Iguassu Falls by coach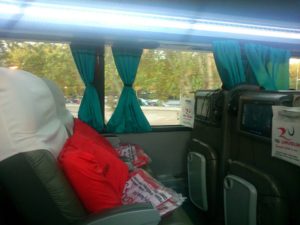 To get to Iguassu Falls, you can go by plane and get there in two hours or if you are me, go by coach and get there in twenty hours. You might wonder what possessed me to travel for twenty hours straight without a break to stretch my legs. Well, experience primarily and to see the Argentine landscape. It was a wonderful experience to witness sunrise in an unknown countryside.
I travelled on a Rio-Uruguay coach which was super comfortable with enough leg space and seats that turned into beds (and gave me the most wonderful sleep ever). There were TV screens on the back of seats with latest American movies to watch. The ground hostess didn't speak a word of English, and so I had to rely on my basic Spanish knowledge to interact with her. We mostly conversed over food (Hay pescada? no? hay vegetariano? no? uh hay queso? si? fabuloso!) and destination time. If you decide to travel by coach it would be advisable to carry a Spanish phrase book and not rely on officials knowing English.
However on the way back from Iguassu Falls, I used the Barri Loche coach. Despite its comfort, it lacked the service that was provided in Rio-Uruguay. I was counting the hours till I reached Buenos Aires. Retrospectively, it would have been better to have taken the flight on the way back. Traveling twenty hours each way exhausted me out.
On the way back to Buenos Aires, we got stopped by the check post security. They singled out some individuals and couples and demanded passports. I caught eye of one security who gave me a subtle smile. He asked for my passport, casually flickering through it; probably looking at my name and date of birth. Then he asked me what I did for a living, before giving me a lingering smile and walking away. I knew that wasn't a part of stop and check. It was for his personal curiosity. That man!
Iguassu Falls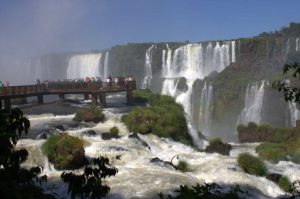 Staying at a hotel that resembled a tropical paradise, I realised it was more suited to couples than solo travellers. The balcony was a great conversation starter with my neighbour. My ice breaker was 'are you getting good Wi-Fi signals here?'
Iguassu Falls is a must and if you can afford the time and money, you should visit. Based inside the National Park, it houses jaguars, capuchins, 16 breeds of snakes (on one of the trails, our guide told us to watch out for snakes as out of 16, 8 are poisonous). The park also hosts an assortment of tropical birds and colourful butterflies that dot the entire Reserve. I was wearing a colourful top that attracted some butterflies. That was another conversation starter with an expat couple from Britain, students from Texas and Ohio and my 70 year old friend from Australia.
There are annoying raccoons everywhere that prey on peoples' food. There are signs everywhere forbidding people to feed them, followed by graphic images of vicious raccoon attacks on people. The blood and gore was enough to make me not have lunch.
Tour groups at Iguassu Falls
Depending on what you prefer. you could visit the national park alone, or you could go with a tour group. I preferred a tour guide who would tell us what places to visit, where to go and what to look out for. The national park offers plenty of walking and climbing the stairs, which will not be suitable for people with health problems.
There is an option to do a boat ride. It cost $52 and is worth every cent. The boat ride will take you into the waterfalls a few times, getting you absolutely drenched. You can always count on the glorious sunshine to dry you up in no time.
A typical length of time to spend at Iguassu Falls would be a full day at Argentine side and half a day in Brazil. Brazil has only twenty percent of waterfalls and you can spend just few short hours here. If you have time, you can do kayaking down the river or take a helicopter ride.
Adios Argentina
My amazing visit to Argentina has ignited a strong desire to visit other South American countries such as Peru (I've always wanted to visit the Machhu Picchu) and practise my Spanish further. Maybe one day I will revisit Buenos Aires and say hello to the city who got under my skin.