Guide to Prague
Prague has existed for around 1,100 years. Let that sink in when you are walking along the cobbled ground of Charles Bridge or strolling past the Romanesque buildings in Vysehrad.
In the 8th century a Czech Princess Libuse prophesied the birth of the city right in Vysehrad.
Prague is a home to Romanesque, Gothic, Renaissance and Baroque architectures. Everywhere you turn, you will find stunning history staring back at you in a foreboding manner. You will feel like a shrunken Alice from Wonderland, craning your neck to take in the magnified landscape around you.
Prague Castle district is the largest castle district in the world, according to the Guinness book of records.
Whether you are visiting for a few days or a week, you can cover some of the major areas of interests that are located in the historical centre. If you are feeling brave, do venture outside of the historical centre and visit other parts of Prague, such as Vinohrady and Zizkov. It is always better to do your research before you set out on your adventure. While it is great at times to throw away the guide book and just go with the flow, it is great to know what to visit – so that you don't come back home and have regrets for missing out on some spectacular sights.
This is a basic guide I have created (and updated recently) to help you have a good time in Prague. While you are there, please say hello to my favourite city from me. 🙂
Airport to Hotel Transfers:
Time: To get to city's historic centre from the airport, it takes approx. 30 minutes (40 minutes during heavy traffic) by car and public transports.
Price: Taxi starts from 500 CZK each way/Public transportation cost typically 64 CZK one way/Shuttle company cost approx. 260 CZK each way.
Trams/Metro:
Trams and metro work on a ticketing system. You can buy your ticket from the newsagent, hotel, train station, or a vending machine. There are different types of tickets that you can purchase:
Basic ticket: 90 minutes' ride for around 32 CZK (allowing transfers)
Short term ticket: 30 minutes' ride for around 24 CZK
Day pass: around 110 CZK
3 days' pass: around 310 CZK
Important thing to remember is when you step inside a tram or a bus, there is a machine that validates ticket. So make sure you validate it right away otherwise you could incur fine.
Places to see in the historic centre:
Old Town:
Don't miss out on the Old Town. Here you will find an amazing and famous Astronomical Clock in the Old Town Square that comes to life every hour. Just get there on the hour and watch the show on the clock come to life. You will love it! If you visit the Old Town Square in the evening, you will get a chill down your spine as you walk through the cobbled back streets where barely lit street lamps guide you. It is utterly breath-taking and romantic.
In the Old Town square, there are lots of sights to see. One in particular is the Church of Our Lady before Tyne that glows green at night time and is a beautiful sight to see. Estates Theatre is also a place to see, where Mozart's opera 'Don Giovanni' had its premiere there. Charles University, one of the oldest universities in Europe, is also situated in the Old Town. The Old Town Bridge Tower is also worth visiting and going up the tower. It is situated at the end of Charles Bridge and as an entrance to Old Town.
Jewish Town:
If you have a bit more time, do visit the Jewish Town. If you cannot grasp the directions on the map, ask people. When I was there, I found people to be friendly and helpful, so don't be shy. Jewish Town is great for those who are interested in the history, legends and traditions of Jewish Prague. It took me four or more hours to find all the synagogues and other sights. And some places have long queues! For this, I would recommend an entire day, starting early as some synagogues shut around 4pm.
The Jewish museum is one of its kinds, having the largest collection of Judaica in the world, in Europe. Before the 19th Century, Jewish community did not enjoy full rights as their Christians counterparts. They had restrictions on many things, such as their house could only be 2 stories high and in Jewish Town only. They were not allowed to move elsewhere. Now this town is one of the affluent parts of Prague, with high rise apartment buildings and opulent looking architecture. In this town, you will find a clock in Hebrew…..one of its kinds. You won't find it anywhere else in the world.
Wenceslas Square:
Wenceslas Square (next to Old Town) is another place to visit. It is a big shopping place and on top of the square is New Town, where you'd find museums. I wouldn't recommend walking up there unless you want a proper uphill exercise! (which is not bad if you had a heavy lunch). The outdoor stalls in Wenceslas Square offers great bargains on gifts and local chocolates. Here you would pay far less for souvenirs than you would from the shops.
John Lennon wall:
The John Lennon wall is situated in Mala Strana, next to the French Embassy. My tour guide Michaela told me about the history behind this wall. Basically this wall is decorated with graffiti. Back in the day, Czech youngsters really liked post-Beatles John Lennon because he started singing songs about peace, anti-war and generally being a hippie. The Soviets did not like this and didn't like the fact youngsters were emulating him. They were paranoid and suspicious about anyone who was anti-war, as they interpreted it as anti-government. When John Lennon was assassinated, the youngsters used this wall to commemorate his memory and so they did graffiti of his picture and his songs lyrics. The Soviet officers would paint over it and the youngsters would do it again. Both sides were playing this game of domination and resistance.
Castle District:
Castle district is another place to visit. It is situated on top of Lesser Town. The scenery around the Castle is beautiful. When I was there, I could see the entire Prague laid out ahead of me. I saw the changing of the guards. This happens at every hour. These guards are carefully selected from the Army. Do visit the St. Vitas Cathedral as it is important to the Czech people; just as St. Patrick is important to the Irish people. Prague Castle is the world's largest Castle complex and has appeared in the Guinness Book of Records.
While you are here, you MUST visit The Golden Lane. Legend has it that it got its name from the stories of alchemists who lived here in the miniature terraced houses under the reign of Rudolf II – who was obsessed with finding the Elixir of Youth. When you visit these houses, you will find yourself transported to the 16th Century as you imagine what life must have been like back then. There are some gift stores as well, selling nice things. I bought one of the miniature 'alchemist' house for my desk.
Franz Kafka Museum:
Franz Kafka museum is a must visit. Franz Kafka is my new hero and here's some information about this famous resident of Prague. Since we aren't allowed to take pictures inside the museum, I made copious notes in my book. By profession, Kafka was a lawyer, but his true passion was in writing. His famous letter written to his dad in 1919 showed a classic diatribe against his father, which some people would have likened it to as a case of Oedipus complex (formulated by Freud). Kafka had a fascination for bourgeois life, while gradually rejecting Orthodox Judaism. He was a famous writer who is worth discovering. Prague was like a dear mother with claws that held onto him. Some of my favourite quotes of his is:
"A cage went in search of a bird." (Third Octavo notebook)
"I am nothing but literature and can (and want to be) nothing else."
I also learned the Old Town, where he was from, was his favourite part in the city and after visiting the Kafka museum, I went back to the Old Town and this time viewing the place as imagined and described by Franz Kafka. Maybe it's the sentimental writer in me that got swept away with this romantic nostalgia, or maybe the city intentionally does this to strangers.
Charles Bridge:
Charles Bridge is another very popular place to visit. It connects both Lesser Town and Old Town. Each of the statues on the bridge has a story and history behind them. On the each ends of the bridge were powerfully breath-taking views of historical Bridge Towers. I was bowled over by such gothic looking beauty. Do visit one of the Bridge Towers, though it may give your legs a thorough workout (three flights of stairs!) Below the Charles Bridge, is the river called Vltava, which means Wild River. Vlt means Wild and Ava means aqua.
Things to look out for:
When you are walking and observing buildings, do look out for images above the doors. Images such as of violins or a scorpion belong from the days when houses did not have numbers (we are looking prior to 19th century) and the images distinguished the residents living in these houses.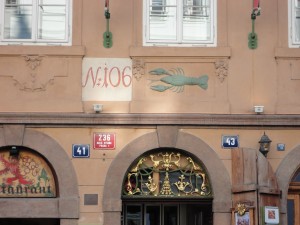 Eating out:
Eating in restaurants in Prague would typically cost you on average CZK 200-250 (this is the rough cost of meal back in 2013 – so it will be a little high today). However take-aways are a lot cheaper. I got huge salad pasta for CZK 60 in some take away place on my last day. Most restaurants offer plentiful meat dishes, with limited vegetarian options.
There is a legendary dessert that you must try. It is called Trdelnik. Prague is famous for this pastry, however according to history, this pastry originally hails from the land of Transylvania (when it was a part of Hungarian Empire). You can enjoy it own its own, or with fillings (Nutella being one of the popular choices). It has a caramelised flavouring and lots of sugar. Forget the calories, you will be walking so much in the days you are there, you will burn it off! I stumbled across a stall in Old Town Square – but I am sure it is easily available. Just be on a look out.
Recommended Tours:
Private Guided Tour:
I would recommend a very good private tour guide from Prague Airport Transfers website. You don't have to take out an airport transfer to qualify for a tour. The conveniently named website offers a lot of different tours to suit your needs and budget. You can do a guided tour in groups and that works out a lot cheaper. However if you want to get most out of your stay, I'd recommend a private tour guide. It is expensive but worth every penny. Michaela from Prague Airport Transfers comes highly recommended by me. It was a four hour tour around the major districts in the centre. She came and picked me up from my hotel and we travelled on foot and once on a tram. She was no ordinary tour guide; she knew her stuff very well. Professionally as a guide, she has been doing this for twenty years. Michaela was non-stop with information overload and I was very impressed with her knowledge. It was like being back at college and going on a history tour but this time taking interest and paying attention.
It cost me CZK 2000 for four hours. I strongly recommend her. But check the price again, as it may have changed since 2012.
Ghost Tour in Old Town:
There is another tour I'd recommend; Ghost tour in Old Town Square. It is an hour long tour in the evening, with a guide dressed up in a long coat, top hat and held a lantern in one hand and a long umbrella in other. My guide was Simon, a young guy from England who had settled in Prague. He took me and some other people around different spots in the Old Town, recalling the legends and stories of murders and ghosts. In the dark, the Old Town look hauntingly beautiful with its long winding cobbled streets, gothic building and back streets that look straight out of Johnny Depp's Jack Ripper movie 'From Hell'. I booked this through Prague Airport Transfers website and the tour cost CZK 300 at the time in 2012.
Things to pack:
As you will be walking around and walking on cobbled streets – it is recommended that you wear comfortable shoes such as trainers (sneakers) or sturdy flats. In the autumn/winter times, pack an umbrella. It gets really cold in the middle of long winter, so pack a coat, gloves, scarf, hat, the lot. Take a notebook and pen – it is great for reminding yourself where you took a particular photo from. Other than that, bring your good times with you.
A small Czech phrasebook – don`t expect locals (passer-bys you stop when lost/shop keepers etc) to understand English just as they won`t expect you to know Czech. Even by learning how to say hello can go a long way with the Czech people and win you some favours in return! Also to pack, is a bundle of energy and sense of adventure. You will need it when you are there.
I hope this helped you in terms of tips and advice. Enjoy your trip!